Mercedes-Benz of Buckhead Service Center
---
Your Mercedes-Benz model was designed and built by experts to deliver a sublime and luxurious driving experience. Don't trust just any mechanic to keep it running right. With the expert technicians and genuine Mercedes-Benz parts available at Mercedes-Benz of Buckhead, Atlanta drivers can ensure that your vehicle gets the care it deserves.
Get Dedicated Mercedes-Benz Service near Atlanta
At Mercedes-Benz of Buckhead, our highly qualified technicians are here to provide exceptional service in a timely manner. From oil changes (model year 2008 and older) to transmission replacements, we are dedicated to maintaining top tier customer service, for both new and pre-owned car buyers! Allow our staff to demonstrate our commitment to excellence.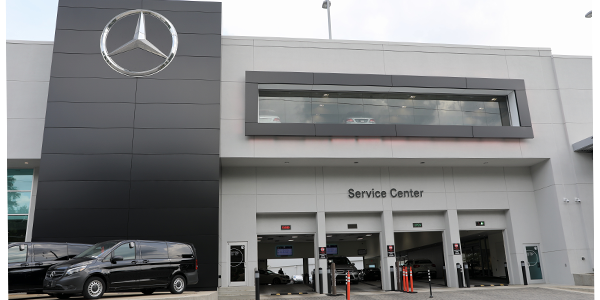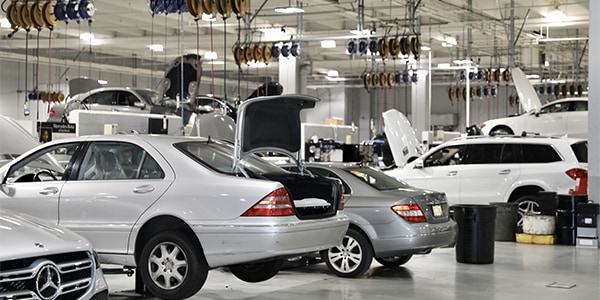 Common Services
Visit us or schedule an appointment today for a wide range of services including:
---
Oil Changes
One of the most important services that you can provide for your vehicle is an oil change. Changing your vehicle's oil when it is time is one factor that really helps to extend the life of your vehicle, as well as keep it running smoother and stronger. We are the perfect place to have this service done, as our true experts are ready and eager. With that being said, we are proud to serve the metro Atlanta area, including but not limited to Tucker, Stone Mountain, Decatur, and Conyers. Check out the important details pertaining to oil changes in the content below:
One thing to note is the time frame in which you should be changing your oil. A well-maintained vehicle will have its oil changed every 3,000 to 5,000 miles. If you wait any longer than this, you can easily damage your vehicle. If you use synthetic oil, then you can go ahead and wait until around 10,000 miles of travel before changing your oil.
It is so important to change your oil because your oil is essentially the lifeblood of your vehicle. When you don't change your oil in the recommended time frame, it can become dirty and actually damage your vehicle. In order to have a properly functioning car, truck or SUV, you must be diligent about changing your oil and keeping your vehicle clean.
Our dealership is the perfect place to have the oil changed on your Mercedes-Benz. We have incredible technicians that are experts in their field, and they are ready to schedule a quick appointment to get you taken care of. We will work with you around your schedule to better ensure that you can get this service when you need it. Give us a call today to schedule an appointment with our experts.
Battery Services
We at Mercedes-Benz of Buckland are the experts to call when it comes to servicing the battery in your trusty Mercedes-Benz. Battery service can absolutely change the way that your vehicle responds and functions. And it can really help you avoid any electrical trouble in the future. Your car battery is an extremely valuable mechanism in your vehicle. The battery ensures that you can start your vehicle, as well as enjoy and utilize any important electronics within. With our help you can ensure that your battery is working, so that you can avoid any bumps in the road. We are proud to serve the metro Atlanta area. This includes Tucker, Stone Mountain, Decatur and Conyers.
What does your vehicle battery do for you? This is a question that we get a lot. Your vehicle battery is a very valuable part of your cars makeup because it provides your model with the quick zap of electricity that it needs too get the other electronical components moving and working. In addition, your car battery converts chemical energy as well as delivers voltage to the starter. This helps to stabilize the power that keeps your engine working and running. Essentially, without a properly functioning car battery, your model would not start, and you wouldn't be able to utilize other electronic components.
What we can provide you with is a thorough inspection of your vehicles car battery. We take a look at the battery itself, as well as the cables and terminals. We can also help by cleaning the car battery as well as perform tests of your battery. If the battery is not up to par, or frequently malfunctioning, we will go ahead and replace your car battery so that you avoid any further issues.
Brake Services
Servicing your brakes is vitally important no matter what vehicle you drive. With your brakes in good working condition, you can stop when you need to, possibly saving your life as well as saving your vehicle from needing some intense work done. We offer up comprehensive brake service to better ensure that you are confident on every adventure and can remain so throughout the life of your vehicle. We at Mercedes-Benz of Buckhead are proud to serve the metro Atlanta area, including but not limited to Tucker, Stone Mountain, Decatur, and Conyers. We welcome you to check out the need to know info on brake service in the details below.
In order to keep your brakes in the best possible condition, we recommend getting brake service with us. With the help of our experts, you can ensure that your vehicle is ready to work for you and keep you safe. Without brake service, you can unintentionally put your life and your vehicle in danger. This valuable service includes removing your brake pads and calipers, cleaning and lubricating guide pins, and cleaning the caliper brackets to help prevent sticking or seizing. Brake rotors might also need to be cleaned out to avoid rust.
When should you have your brake serviced? One of the biggest signs that you might need your brakes serviced is that they may be squeaking or rattling when you are braking or even driving. Should you hear any noises, that is a warning sign to go ahead and schedule service with us. Another rule to go by is to have your brakes serviced every 5,000 to 7,000 miles. Or, you can wait about 4 to 6 months, whichever comes first. When it is time to have your brakes serviced, we are the place to call for a great experience.
Alignment Services
Ensuring that your vehicle is aligned is another very important factor of car ownership. We at Mercedes-Benz of Buckland are proud to be able to offer up this very important service at our dealership. With your vehicle, you will need to ensure that you are servicing your vehicle regularly to keep it in great shape. With that being said, we are more than excited to be the place to provide you with the services you need. Read on to get to know the benefits of alignment, as well as when it is best to inquire about this service. We are proud to serve the metro Atlanta area with any alignment needs.
What exactly is tire alignment? Tire alignment is when you bring your vehicle in for an adjustment of the vehicle's suspension system. This system connects the vehicle to its wheels. When we are aligning your vehicles suspension, we are essentially adjusting the angles of the tires, and in turn effecting how they come in contact with the road. By aligning your vehicles suspension, we can ensure that you get the most life out of your tires. With out an alignment, your tires and vehicle can suffer, and you will find yourself making replacements much more frequently.
Tire Center
5 Reasons to Buy Your Tires From Mercedes Of Buckhead:
1.The right tires for your Mercedes model
2.Competitive tire prices
3.Expert installation by factory-trained technicians
4. All major brands, including Continental, Hankook, Michelin, Pirelli, Dunlop, and more
5. Road hazard coverage included on eligible tires
Why Service at Mercedes-Benz of Buckhead?
In addition to our factory-certified Mercedes-Benz technicians and deep catalog of genuine parts, you'll receive the ultimate service experience when you visit our dealership. With 17 express service bays, simple tasks such as oil changes, tire rotations, and recommended maintenance will have you in and out as quickly as possible. Same day appointments mean you don't have to wait to address a repair or maintenance concern on your Mercedes-Benz vehicle, and 60 general service bays give us the bandwidth to handle several jobs at any given time.
Our Mercedes-Benz dealership in Atlanta offers the largest inventory of genuine Mercedes-Benz parts in the Atlanta area. Rather than trust generic parts, guarantee the fit and performance of your replacement parts when you shop with us.

Best of all, your service repairs all come with a two-year warranty, so you can have confidence that we've gotten the job done right the first time. And if not, you're not on the hook for a subsequent replacement or repair of the same part. As the largest volume tire seller in the Metro Atlanta area, we have a wide range of tires available for you to choose from. Whether you're looking for specialty track tires, a budget tire option, or anything in between, our dealership has you covered.
Visit Us Today!
With our experts at Mercedes-Benz of Buckhead you will be certain that your model is properly cared for. We know how important it is to have a great service center that you can trust, and we are endlessly proud to be that option. Additionally, we have an exciting list of other services that are available to our incredible customers, and we recommend that you contact us today with any questions.
Have your Mercedes-Benz vehicle serviced by the team that knows it best. Take advantage of our Mercedes-Benz certified technicians and give your vehicle the special care it deserves.